Walk into any Barnes and Noble bookstore and you'll find, prominently displayed on a table near the front of the store, a host of adult coloring books and supplies of brush markers.  It seems that adult coloring is a new pastime.  I've tried it and it is a lot of fun.  To be clear, I never gave up on coloring the old way (crayons and kids coloring books), so maybe I am biased but whatever.
At first, the only available books featured complex geometric patterns or stylized animal prints or nature scenes – you know… adult things.  Fortunately, comics publishers have been jumping on the bandwagon and one can now get coloring books with content ranging from EC's horror line to everyone's favorite moral reprobate: Deadpool.
All of that is well and good and I have purchased coloring books of both stripes – sober adult content and cheeky adolescent fare – and have enjoyed coloring in each kind.  Up to a point.
Of course applying crayon or marker to page has its drawbacks.  The most notable one is that the original unfilled image is lost forever once you start coloring unless you buy another copy or you photocopy, scan, or otherwise digitally reproduce the original.  Personally, I don't want to indulge in the former and much prefer the reproduction route. But if one is going to do that, why limit oneself to what the publishers deem appropriate.  Branch out.
And so that is just what I did.  Using a smart phone (or digital camera or a scanner), some photo-editing software, and some of those DC Showcase or Marvel Essentials black-and-white reprint volumes, you can make your own custom coloring book and get started practicing as a do-it-yourself colorist.
For this post, I photographed an image from Essential Captain Marvel, Volume 2 in which Thanos first reveals that he possesses the cosmic cube.  To capture the image, I used Genius Scan on my Samsung Galaxy Note 3 (old but powerful and much beloved).  I like Genius Scan since it corrects for some curvature and rotation automatically. The page was in the middle of the volume which is a thick as an old-fashioned phone book from a mid-size city.  The raw image looked like this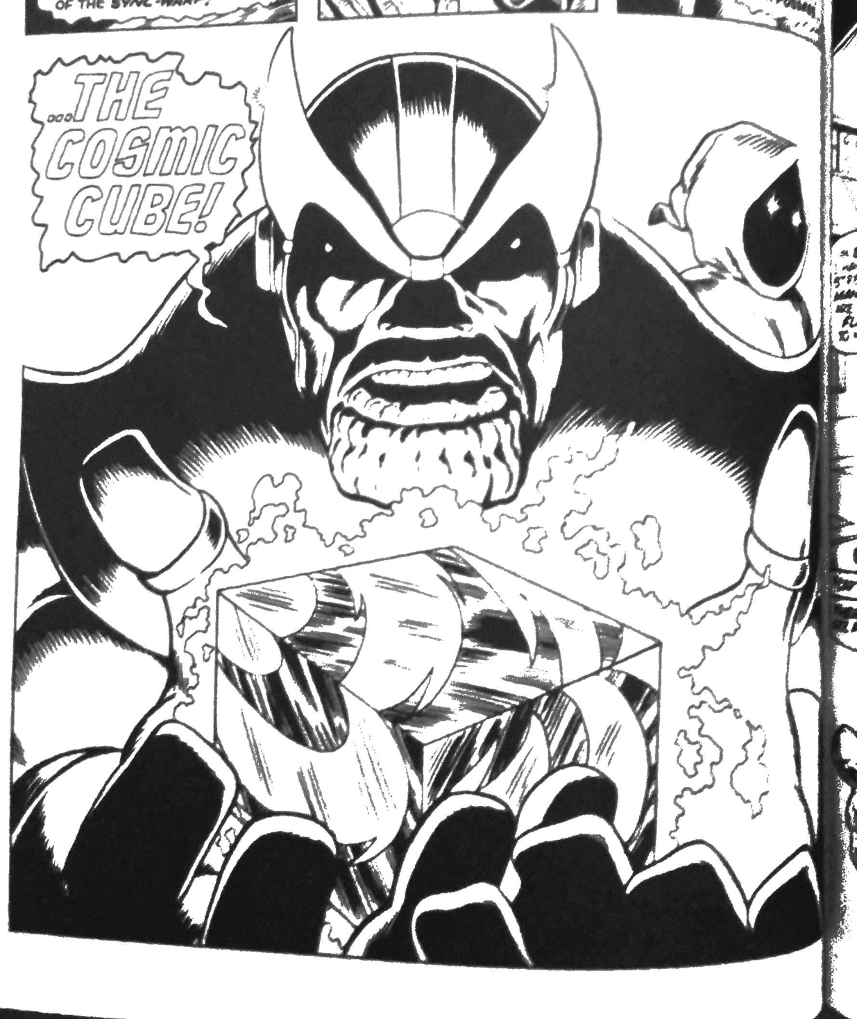 I then loaded the image into the GIMP and cropped it to
The next step was to start coloring.  For this quick and dirty approach I didn't use layers nor did I try any tools except the bucket fill.  This was a bit clumsy as certain regions that looked closed often had small gaps due to the publisher reproduction, the printing process, or the image capture.  Whatever the reason, when a small, undesired gap was present the bucket fill would sometimes over fill as in this image
At times like this, the undo (ctrl-Z) I your friend.  Repairs involve the eye-dropper (color-picker) tool and the brush.  Simply grab a gray/black from some point nearby and close the gap using the brush (soft and diffuse seems best) and color again.
Using this rather primitive process, it only took me about 10-15 minutes to color in the image to
Clearly the image needs work, especially around the crenellated chin of the Big-T.  But all, told it didn't turn out too bad given that layers and brushes and other sophisticated tools were totally ignored.
So there you have it – a three-fold win: 1) a fast way to create your own digital coloring books using your favorite art, 2) a new use/justification for buying the cheap B&W reprint volumes, and 3) a path to learn to be a real colorist without the need to find an artist and inker.